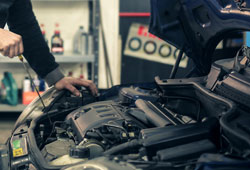 Fleetmaster Service works on all domestic and import vehicles 1 ton down to the Smart Car in Saskatoon providing repairs and Maintenance Services.
We are an Accredited SGI Light Vehicle Inspection Station
Air Conditioning
If your vehicle's air conditioner isn't getting cool, doesn't reach a comfortable temperature, isn't running at all, or has a leak, our mechanics can make any type of repair so you can drive in comfort again. Whether it's a blower motor or compressor repair, coolant leak, or bad wiring, we can make any air conditioning repair for a reasonable price.
Computerized Wheel Alignments & Balancing
Wheel alignments and balancing are important for maintaining even tire wear, smooth steering, and easy turning. Wheel balancing involves adjusting the positioning and air pressure in the tires, and most wheel alignments can be done accurately in a matter of minutes.
Computerized Engine Analysis
If you have an unexplained problem occurring with your vehicle—an unexplained noise, trouble starting the car, shaking while idling, or if your check engine light is on—our computer engine analysis will uncover the type or repair needed to avoid more major problems down the road.
Fuel Injection & Tune-Up
Fleetmaster Service also provides fuel injection repairs, including flushing out the system, replacing the alternator or fuel injector, and any other minor or major repair. We also provide tune-ups, which includes the inspection and replacement as needed for several small parts, including all filters and the spark plugs.
Brakes Service & Repair
We can take care of any brake repair, whether you need new brake fluid, pads, rotors, or lines.
Shocks & Struts
We also make suspension system repairs to the shocks and struts, from simple parts repair to replacements and rebuilding. If your car's steering wheel is shaky, your wheels waver when you turn, or you experience a rough ride when driving over bumps, bring your car in to our Saskatoon repair shop and we'll smooth out your suspension.
Exhaust System Repairs
Fleetmaster Service's experienced mechanics also provide exhaust system repairs. If you have a strong odor or smoke emitting from your exhaust or you need a new muffler, we can make those or any other exhaust repairs.
Cooling System Flushing
If your engine is overheating or not cooling down as quickly as it normally does, your cooling system may be clogged with sludge, dirt, or debris. We offer cooling system flushing to clean out all the components so that air can flow freely and the system can work properly
Transmission Service & Flushing
If you're experiencing trouble with your transmission such as slipping when you accelerate, difficulty switching gears, or any other transmission issue, we offer any type of transmission repair, as well as a transmission flush to clean out the system.